Manali Holiday Package – Explore the beautiful Kullu Manali valley with it:
If you are a world traveler who enjoys going to different locations across the globe and experience different cultures, then you probably have heard of Manali. If you haven't then you need to get on a plane right now and go there for an adventure of a lifetime. For those who are familiar with the place, it is without a doubt one of their most favorite destinations. The best news is that you can actually get a Manali holiday package of a lifetime.
Spend some time in calm and beautiful place with Manali holiday package :
Manali is a beautiful valley which is very close to the Himalaya in Himachal Pradesh, India. Manali sits at an altitude of about 6,000 feet above sea level. It is located in a wonderful area which full of other great valleys. This include such as Bears River Valley and Kullu of which it is connected to on one end. Valley is tucked away safely between hills and mountains and provides a nice and peaceful ambiance for a holiday retreat. Of all the valleys around, it is the most popular with a hill station that sees millions of visitors every single year. The Bears River flows right through the station and adds on to the magic of the town. Everything about Manali is ancient and clearly, brings out its history and that of India in general.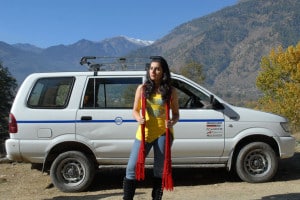 image source : wikipedia
What does offered in Manali holiday package? how you can get benefit with it? :
Manali Holiday Package consists of so many destinations and activities that might take up a whole month just to complete entirely. Don't let the size of the town fool you. Around Manali you will find many interesting things one after the another. Manali valley very well connected with roads between hills and mountains. Hence accessing it won't be much of a problem. The Bhuntar Airport is only 31 miles away from Manali. It is even much closer to Kullu town. Accessing it through road is way easier since most national highways pass through the two towns.
Some of the attractions you will see are Hidimba Devi Temple, Rohtang Pass, Pandoh Dam, Bhrigu Lake, Solang Valley and Beas Kund; the least is actually endless. You will get to learn a thing or two about the Vashisht culture by visiting the village and admiring their beautiful temples.
The Great Himalayan National Park is the ultimate wildlife scene. It has one of the most diverse species of flora and fauna. This is where you will get to know all the different species of animals, birds, and plants that flock the Himalayas region.
Activities which can be covered in package while your holidays in Manali:
When it comes to activities, you can do everything from skiing, trekking, skydiving, paragliding, zorbing, rafting and horseback riding, you can choose a "Manali Holiday Package" which includes all these activities . There is literally nothing you can't do in Manali, everything is available easily. You will never find a better spot for carrying out all the above activities all in the same location.
Make sure you carry clothes that will allow you to have fun with no restrictions. They shouldn't be too loose or too tight. The rainy season is not a good time to visit the area. Summer is much better season in which you can buy your "Manali Holiday Package". At the end of the trip, you will definitely eager to come back for more and more. Manali is most certainly a place like no other.
Apart from Manali holiday package, you can consider these links as well :
Everything You Need To Know About A Manali Honeymoon
4 Places You Can Explore With Manali Volvo Package