Honeymoon Packages for Manali:
Are you looking for a honeymoon destination drenched into beauty and full of enjoyable activities? We recommend you to choose a tour to Manali from wide range of honeymoon packages for Manali from a reputed government approved tour organizer for your honeymoon holidays. I bet it will be a great and memorable experience. Honeymooners from all around the world come to visit Manali for honeymoon holidays.
Manali is one of the most beautiful hill stations of India. Himachal Pradesh is famous for its mountain region and beautiful landscapes. Himachal pradesh is a hilly state of India. It is one of the most beautiful state in the country. Nestling like a rose bowl in the lap of majestic Himalaya, it is worldwide known for its exceptional natural beauty that makes it a perfect honeymoon destination and deserves the attention for couples all over the world. It is among the topmost Indian Honeymoon destinations.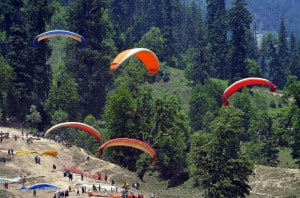 Manali is a great destination for honeymoon couples, explore it with honeymoon packages for Manali:
Manali is located at the distance of 40 km from the world famous Kullu valley to the north. Snow-capped mountain peaks, fruit trays, apple orchards, temples, gushing waterfalls, beautiful lakes, landscape beauty, etc team together to make Manali a great destination for Honeymooners. A tour to Manali, Himachal Pradesh also offers couples wonderful opportunity to enjoy various activities on enjoyable.
Para gliding, playing with ice, heli-skiing, river rafting, skating, snow skiing, etc are some popular activities that couple or honeymooners never forget to enjoy and soak in on their Manali tours and travel in Himachal Pradesh. I bet you will love to enjoy in glorious synthesis activities with your beloved on your honeymoon holidays in Manali, Himachal Pradesh.
For more adventurous tourists, there are a few adventure sports and other activities such as; mountaineering, mountain biking, ice climbing, rock climbing, trekking, etc. Therefore, Travelers from all around the world visit Manali to take pleasure in Himalayan thrill.
Manali is all time best destination for honeymooners:
Manali is the destination for all seasons. Therefore, casual visitors and honeymooners can be seen at Manali round the year. In spring, one can see the valley and living green carpeted meadows blooming with both types of flowers – wild and cultivated. Exploration thesis provides a great treat to your eyes. Furthermore, you can see with your beloved in some of the best sunset views in monsoon. And of course your beloved will never praise you and your choice of honeymoon packages for Manali tours for your honeymoon holidays.
Winter in Manali makes paradise-like ambiance for Honeymooners. Therefore, almost couples prefer to observe their honeymoon holidays here in a winter season. Snow all around, beautiful valleys, thick forests of pine and deodar trees filled with cool breeze consecutively make Manali. Manali is precisely a great destination for Honeymooners. There are many couples on "honeymoon packages for Manali" which create honeymooners their honeymoon holidays in more and more enjoyable and convenient ways with good accommodation in town. Another tour you can consider is Manali Shimla tours. Since, these tours are very popular among couples from all around the world.
If you are planning honeymoon packages for Manali. Finally, you have taken a right decision. And obviously, your favorite will always praise you for your choice. So, take your "honeymoon packages for Manali" from one of tour operators or honeymoon planners and get ready to treasure the fascinating experience of your honeymoon holidays.