Have an exciting experience on tourism in India with Kerala Package Tours: 
India is a country with diversity. This includes the terrain across the country. It varies and provides multiple exciting opportunities to explore different parts of the country. Each part has something unique and different to offer. Kerala is one of the premier destinations for Indian as well as international tourists, in the southern part of India. This has made Kerala package tours a much sought after holiday option in the country. This season, visit a unique holiday destination with Kerala package tours. Rich in history as well as beach beauty, Kerala is easily accessible, and the climate is fresh and inviting during the months of April and May. Home to several beautiful beaches like Varkala, Kovalam, Meenkunnu, Marari, Cherai and Payyambalam, Kerala has been left with a rich and varied heritage.
Be part of the drum circle which is held every day. Also you can join other people involved in yoga at sunset point. Whereas Varkala in Kerala has a beautiful coastline, perfect for relaxation and Lighthouse beach at Kovalam. This gives an ideal time for swimming. Check into a luxury spa resort and sign up for a couple's Ayurveda treatment. Since this make use of local produce like a banana leaf, minerals, and papaya and herbal plants. For a more relaxed experience, one can also soak in a hot spring.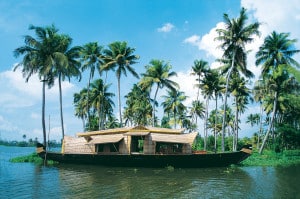 On your Kerala Package tour – experience famous Elephant festival at Thrissur:
Thrissur Pooram is known as the great elephant festival of India. In April-May, in the southern Indian town of Thrissur, a large and animated elephant festival takes place on the grounds of the Vadakkunathan Kshetram Temple. During the annual Pooram Festival, scores of caparisoned elephants participate in the colorful Hindu religious festivities and procession. At least a million people around the world come to take part in the event.
Kerala package tours will enable you to spend time with friendly locals. Also dig into exotic cuisine among other fun and adventurous activities.The tour covers Cochin City Tour popularly known for its embellishment of Chinese tiles and Belgian chandeliers along with the scrolls of the ancient style.
Kerala package tours also takes you to Kerala's Capital city Cochin:
Cochin City is also famous for spice market, where one can find good quality of all spices and Chinese fishing nets. One can enjoy and witness the villagers daily lives along the backwaters at the very famous town Alleppey. The city is well-known for beautiful backwaters, canals, and lagoons. Not only this "Kerala package tours" will take you to the wildlife sanctuary on Lake Prayer by boat but also to Kovalam that is in the South of Trivandrum. You will also have an experience of the two beaches at Kovalam which are separated by a high cliff popular for Ayurvedic salons along with healing and rejuvenation.
Thiruvananthapuram is an ancient city of Kerala. City is particularly famous for Padmanabha Swami Temple which is a Lord Vishnu temple. The temple is complex with a huge Gopuram and an enormous tank beside it for ritual bathing.
Experience the thrills of outdoor activities and have loads of unforgettable moments by just booking "Kerala package tours" where you can enjoy shopping, beaches, art and crafts, Indian cuisine and much more. so what are you waiting for?
Experience Beautiful Dharamshala with Dharamshala Tour
Tour Packages For Shimla Manali is your gateway to visit Shimla and Manali
Everything You Need To Know About A Manali Honeymoon
Explore the mighty Himachal with the Himachal Honeymoon Packages